To continue my
post from last week
, I wanted to share a few more of my favorite items that I use in my kitchen almost daily.Cast Iron Skillet
My husband loves this skillet and has convinced me of how great it is more and more every time I use it. It cooks really even and I love using it for cornbread and fritatta. Also, the cleanup is super easy and I'll take that anytime.
We have found these at great prices at Marshall's. I also saw that
One Kings Lane
has them on sale for $25 right now in The Kitchen section through Saturday and with your
$15 sign up credit
, that's a super deal.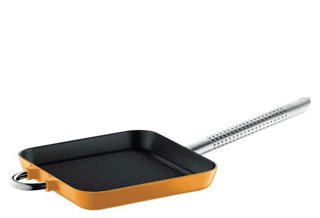 The Pampered Chef Pizza Stone
You've probably heard all about this, but I can't say enough about how much better things turn out on my pizza stone than on other pans. I often bake double and triple batches of cookies, bread, and especially pizza. The ones cooked on the stone never burn on the bottom and just have a better flavor.


The Pampered Chef Suds Pump
This item is actually for the kitchen and all my bathrooms. I have tried a few different soap dispensers to try and find something that works well for small children. This one works well as it is lightweight, unbreakable, and conserves a lot of soap.

These Pampered Chef items would be great to get through hosting a catalog party.  Check out this post for more info on getting free products for hosting a party in January.
What do you have to have in your kitchen?